David Taylor, Choreographer and Director
David Taylor has been professionally involved in the Denver dance community for the past thirty-eight years. During the course of a twelve-year dance career, he began choreographing in 1976, and since then has created over 100 original works.
In 1979, he founded the David Taylor Dance Theatre (DTDT), which is now proudly celebrating its 30th Anniversary as one of the Rocky Mountain region's most acclaimed, well recognized, and respected dance organizations. As one of Denver's premiere professional contemporary ballet companies, the DTDT has developed a reputation of presenting outstanding original and innovative works. The company presents annual season performances in the metro area and tours extensively both regionally and nationally.
For twenty-seven years Mr. Taylor also served as the company's principal choreographer. His unique creative focal point was a fascination with ancient cultures and their cosmologies, explorations into metaphysical and ritualistic archetypal dance realizations, and multi-media artistic collaborations, which provided his 12 member company with a stunning and thought-provoking identity within the world of professional dance.
He received the City and County of Denver's first Individual Artist Fellowship award for dance for his critically acclaimed collaborative work, "Anasazi Dream" in 1987, and went on to be commissioned by Opera Colorado, the Colorado Symphony, the Denver Chamber Orchestra, the Up Close and Musical Ensemble, the National Repertory Orchestra, the Colorado Wind Ensemble, the Rocky Mountain Sacred Dance Guild and by the Ascot Dinner Theatre and Town Hall Arts Center in Littleton.
Mr. Taylor received his first out-of-state commission in 1992, choreographing a new contemporary work for the Dayton Ballet in Ohio, and in 1998 he was invited to stage his popular "A Children's Rainforest Odyssey" production for the Aspen/Santa Fe Ballet. His full-length, critically acclaimed productions of "The Nutcracker" and "Rainforest" continue to be booked extensively across the United States.
Besides his own ballets, Mr. Taylor was also successful in acquiring the work of nationally and internationally recognized choreographers and bringing internationally acclaimed dance companies to Colorado. Through DTDT performance programs such as "Contemporary Classics" and "Three's A Crowd", and collaborative presentations for many years with the Paramount Theatre, Colorado audiences were able to experience the choreographic artistry of Glen Tetley, Bruce Marks, James Canfield, Loyce Houlton, Milton Myers, James Clouser, Charles Moulton, Darryl Yeager, Robert Sher-Maccherndl, Gary Abbott, Tom Ruud and Lynne Taylor-Corbett and performances by companies such as Jose Greco II, Tangokinesis, Les Ballets Africains, The National Song and Dance Company of Mozambique,  and Swing Dance America.
In March of 1997, the strength of his vision led to Mr. Taylor and his company becoming the proud recipients of the State of Colorado's Governor's Award for Excellence in the Arts.   
Having moved into the position of Artistic Director Emeritus of the DTDT in 2006, Mr. Taylor continues to serve the DTDT in an advisory capacity. He currently remains very active in the Colorado dance scene as an Adjunct Faculty member with the Dance Department at Colorado State University and throughout the state and nation as a choreographer, ballet master class and sacred dance teacher, and dance history professor and lecturer. In 2008, Mr. Taylor received the "Living Legends of Dance in Colorado" Award through the Carson-Brierly Dance Library.
Reviews:
    "…if there's a part of you that wants to believe in real dance magic, check out the David Taylor Dance Theatre's eye-popping, inventive production of 'Rainforest'…and bring the kids. This is not just a dance show, but a total theatrical experience in which every element is crucial – and every element brilliantly conceived."
                                                     Marc Shulgold, The Denver Rocky Mountain News
    "…'Rainforest' was so full of magical visions that I'm sure any child in the audience who has the slightest leaning towards an interest in dance will be joyously hooked for life. What Taylor's collaborative crew did with costumes and lighting design turned the stage into a blissful childhood fantasyland. Mr. Taylor's inspired mix of artistic brilliance and concern for the environment made me hope that they'd do it again. Soon."
                                                     David Marlowe, Out Front Magazine
    "('Rainforest' is )…one of the most brilliant pieces of theatre this side of 'Cirque du Soleil'. My ability with words is woefully inadequate to the task of describing this wonderful production."
                                                     The United States Institute of Theater Technology
    " …'Rainforest' is a visual and dancing delight. It is refreshing to come across stagecraft that is simple, elegant and magical that charmed children and adults alike. 'Rainforest' bursts with flashes of color and light. Add a score that is both atmospheric and musically pleasing, imaginative costuming and evocative choreography and you have a total theatrical experience."
                                                     Theodore Mahne, The New Orleans Times-Picayune
    "In the competitive world of rival 'Nutcracker' productions, there are Nutcrackers grand and Nutcrackers wacky, but when it comes to imaginative ones, the David Taylor Dance Theatre has a sure bet. There can be few productions quite so visually arresting as that of the DTDT. Designed by George Peters, the sets and costumes reinforce Taylor's choreographic ideas: that the ballet is a dream, that dreams follow their own, often surreal, rules, and that there is a blend of terror and joy and of happiness and regret. It is a brightly conceived and danced show."  
                                                     Glenn Giffin, The Denver Post
    "The Christmas ballet classic 'The Nutcracker' is not synonymous with creativity. But then comes along a production of the family ballet like that of the David Taylor Dance Theatre. They showed that with sufficient artistic vision you can take a ballet as infinitely world-weary as 'The Nutcracker' and make it glow with charm and wit. While the production would have been slightly diminished without the sets and costumes of George Peters, it would not have been so thoroughly witty and intelligent without the choreography of David Taylor. The ballet is shot through with small touches of humor. The result is while children will be delighted by the whimsy and fantasy of the piece, adults will be equally engaged by its gentle self-irony. The unique use of color makes us appreciate every aspect of the visual texture of the ballet. The result is equally elegant and delectable."
                                                     Devorah Knaff, The Long Beach Press-Telegram
    "…Taylor's bright, bold 'Nutcracker' is a treat for the eyes. George Peters' inventive sets are complemented by an equally stunning costume design. The result is memorable. This bold look fits nicely with Taylor's unorthodox story line. Rather than send young Clara off to dreamland after the endless opening-scene party, Taylor turns the entire ballet into a dream. It's a terrific idea."                                              
                                                                    Marc Shulgold, The Denver Rocky Mountain News
Choreography 1983-2008
"Parallel and Elevated"                       Two kindred spirits on different planes of existence interact
Music: Brian Eno                                 in slow motion acrobatic elegance in David Taylor's duet set to
                                                               an atmospheric score by Brian Eno.
     <![if !word & !ppt & !excel & !vml]>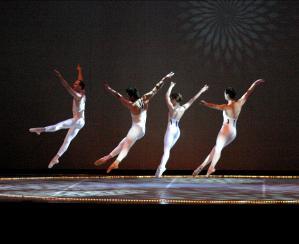 <![endif]>                <![if !word & !ppt & !excel & !vml]>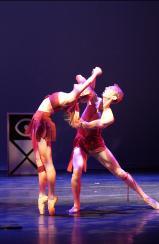 <![endif]>
"The Meditation of Thais"                  A contemporary dramatic duet based on the tragic Greek
Music : Massenet                                  myth.
 "Rainforest"                                         Artistic Director David Taylor's nationally acclaimed
Music: Jesse Manno                             multi-media production has proved the most popular
                                                               work in the DTDT's repertoire over the past 13 years.
<![if !word & !ppt & !excel & !vml]>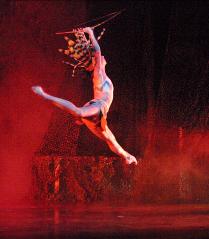 <![endif]> 
                                                       "Rainforest"
"A Children's Rainforest Odyssey"     Four excerpts from the full-length production supplemented
Music: Jesse Manno                              by an environmental/educational narrative. A one-hour
                                                                 program specifically designed for school children.
                                                                                     A Children's Rainforest Odyssey"
"An American In Paris"                       Taylor's version of the delightful Gershwin score is
Music: George Gershwin                     full of surprises. This contemporary Parisian scene
                                                               combines both humor, exuberance, and sweeping
                                                               pas de deux work.
"Seasons"                                              Premiered in the Spring of 2004, "Seasons" combines                                
Music: Alexei Karpov                           original poetry and a brilliant original score, both of
Poetry and Concept: Gus Nicholson  which received national awards, along with narration
                                                               and vibrant choreography, to create a unique internalized  
                                                                musing on the spiritual effect of nature's cycles.
                                                                 Seasons
 "Romeo and Juliet Rocks!                   A stunning, contemporary take on the classic tale of the
Music: from the Baz Luhrmann film star-crossed lovers that deals heads-on with some of the
                                                                most challenging social issues that today's youth must face.
        <![if !word & !ppt & !excel & !vml]>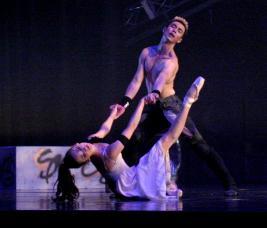 <![endif]>                   <![if !word & !ppt & !excel & !vml]>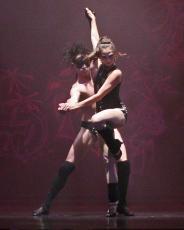 <![endif]>
                                                              "Romeo and Juliet Rocks!"
"The Nutcracker"                                Artistic Director David Taylor's innovative,
Music: Peter Tchaikovsky                   colorful, and lively version of the Christmas
Choreography: David Taylor               classic has received rave reviews across the
                                                               United States.
                                       <![if !word & !ppt & !excel & !vml]>
<![endif]>

                                                                     "The Nutcracker"

"In Your Eyes"                                     The latest, and one of Mr. Taylor's finest works that

Music: Peter Gabriel                            displays a spectrum of archetypal movement, pattern

                                                               work, and the spirit and passion of Peter Gabriel's lyrics.    

                                                          

<![if !vml]>